Pre-Purchase Home Inspections
Related Home Inspection Services
Radon Testing
Structural Analysis/Design
FHA Roof Inspections/Certifications
Insurance and Warranty Inspections
Pre-Listing Home Inspections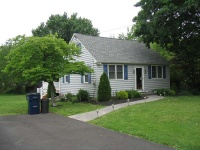 Buying a home in Missouri is an exciting process.
This is a time when an expert, professional home inspection is needed most. Criterium-Hardy Engineers can provide you with a detailed report to help you learn about the house you want to buy and avoid costly surprises in the future.
A careful examination of a house is not easy. Criterium-Hardy Engineers provides home inspections by Professional Engineers who are licensed by the states of Missouri and Illinois, and adhere to the highest legal and ethical standards.
Our inspection is a limited visual inspection consistent with the standards of practice of the National Academy of Building Inspection Engineers (NABIE), designed to identify significant deficiencies and/or repairs needed in the major systems of a home (structural, heating, air conditioning, plumbing, electrical, roof, exterior) and to provide a general understanding of the property's current condition.
We look at the following areas during our Standard Home Inspection :
| | |
| --- | --- |
| Structure | Interior |
| Wood-Destroying Insect Activity | Exterior |
| Basement Water | Roofing |
| Ventilation | Life and Fire Safety |
| Heating and Cooling Energy Efficiency | Pool and Spa |
| Plumbing | Environmental |
| Electrical | |
Following the on-site home inspection, you will receive a detailed written report that our clients find easy to follow. The most popular feature of the report is our Home Maintenance Plan, which provides home owners with useful information about their home's expected condition for the next ten years and includes cost estimates for repairs, upgrades and maintenance items.
Call Criterium-Hardy Engineers for our pricing structure, which is determined by the property's size, age, location and the service you request.