5 Ways To Prevent Water Pipes From Breaking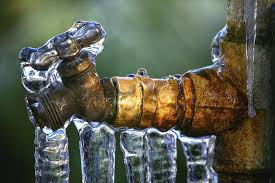 Ice forming inside of pipes often is not the cause for pipes breaking.  Rather, water pipes typically break when an ice blockage occurs and the freezing and expansion causes an increase in pressure between the ice blockage and a closed faucet downstream of the blockage.  Pipes that are protected by heat or insulation are typically safe, while pipes in crawlspaces, attics, and outside walls are vulnerable to freezing.  Extremely cold weather and holes in the exterior for things such as telephone wire, cable, gas lines, etc. can allow cold air to come in contact with water pipes.   
The water in pipes freeze when heat is transferred to subfreezing air

.  Cracks and holes in outside walls near water pipes should be sealed with caulk to keep cold air away from the pipes.

  

 
Kitchen and bath cabinets can prevent heat from reaching the pipes.  

It is a good idea to keep the cabinet doors open during a cold spell to let warm air circulate around the pipes

.  

 
Letting a faucet drip during extreme cold weather can help reduce the risk of a

 

pipe

 

freezing

.  Pipes can still freeze with running water but by opening the faucet, pressure is relieved between an ice blockage and the faucet.  Even if the pipe freezes the risk of pipes bursting is reduced.  

 
With exterior 

piping the best solution may be to have a plumber re-route piping to better protect the piping

.  Other options include using e

lectr

ic heating tapes and cables which can be applied to the pipes 

to keep the water inside from freezing.  Pipe insulation 

can also be installed to slow the transfer of heat and better protect the pipe

.  

 
When away from the house be careful how low you set the temperature in the house

.  Consider draining the water system during extreme weather if leaving the house or during a power outage with no heat source.  Turn off the main water valve and open all the fixtures in the house until the water stops running.  

 
If you open a faucet and no water comes out you should call a plumber.  If a water pipe bursts turn off the water at an isolation valve or at the main shut off valve usually located where the main enters the house.  Leave the faucet open until repairs are complete.  You may be able to thaw a pipe using handheld hair dryer.  With the faucet open begin heating near the faucet and work upstream on the pipe.